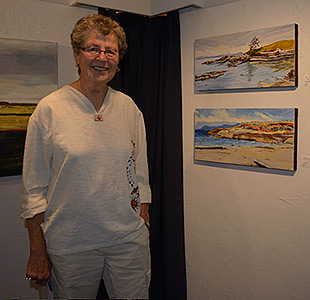 Living in several provinces has given Elspeth a wonderful opportunity to experience the wide range of topography and spectacular scenery Canada has to offer. She uses bold and dramatic colours to capture the beauty of the Canadian landscape. Elspeth continues to focus primarily on landscapes, especially BC's dynamic coastal terrain. She boldly uses colour and the play of light and shadow to express her joy of the richness around her. Fields of colour, deep blue waters and thick lush forests all lead you into something that feels familiar…the comfort of nature. Her paintings include the stillness of ponds, sun drenched fields of the interior, dramatic seascapes, and a whimsical hint of flowers. It's all about colour.
Elspeth is currently represented by Arbutus Arts, Hornby Island, BC. Her Hornby Island studio is open during the summer months and off-season by appointment. Elspeth appreciates and welcomes visitors to her studio. She is always interested to hear how her work is viewed through other's eyes and experience.
Elspeth's paintings can be found in corporate offices in Vancouver, Calgary, Toronto and in private homes in BC, AB, ON, QC, the U.S., England, Norway and South Africa.
"Thank you for the beautiful picture "Sunflowers III". It looks wonderful on my wall and makes me smile." – Connie